Welcome to Beautiful Views
We hand craft a unique window plant shelf that offers a functional and elegant space saving solution for those that love to grow and enjoy plants inside their home.
Made in the U.S.A. since 2011

U.S. Based Customer Support

1500+ Reviews on Amazon and Etsy!

FREE SHIPPING!
CONVENIENT

Fully assembled, leveled and ready to hang right out of the box!

ADJUSTABLE

Shelves are easy to reposition anywhere along the cable.

QUALITY MATERIALS

Constructed of UV resistant cast acrylic and nickel plated brass
Something For Every Window
You can select a cable length and the number of shelves that work best for you and your window.
Two Shelf

-

20" Wide x 6" Deep x 34" Long

-

Supports up to 20 pounds

Three Shelf

-

20" Wide x 6" Deep x 45" Long

-

Supports up to 30 pounds

Three Shelf

-

20" Wide x 6" Deep x 54" Long

-

Supports up to 40 pounds
Mounting Systems
Flexible mounting solutions that allow our Window Plant Shelves to work in most windows!
Installation Instructions
Angle Bracket

The angle bracket rests on the top of your trim and is secured by two small fasteners. This mounting method is the easiest way to install our shelves and works well with most windows that have at least 2" of depth available.

Hooks

Deeper windows (at least 4") can take advantage of using hooks to install our hanging window plant shelves. Hooks, along with being easy to install, perfectly compliment the minimalist styling of the shelves.

Extension Mounts

Shallow windows or windows with blinds will need "Extension Mounts" to "push" the shelves out far enough to hang freely.

Available in two adjustable sizes: 2.5″ and 5″ so you can extend the shelves out just a little or to the maximum allowed.

No Trim

If your window does not have trim and is not deep enough to use hooks your shelves can be installed using either the "No Trim Mounting Block" or "Extension Mounts".
Need help choosing the best mounting system for your window?
Send us photos of your window and we will help you pick the right system.
Submit photos of your window.
Looking for a Custom Solution? Custom shelf sizing and cable lengths are available upon request.
Custom Unit Quote
Let us help you create your perfect window showpiece!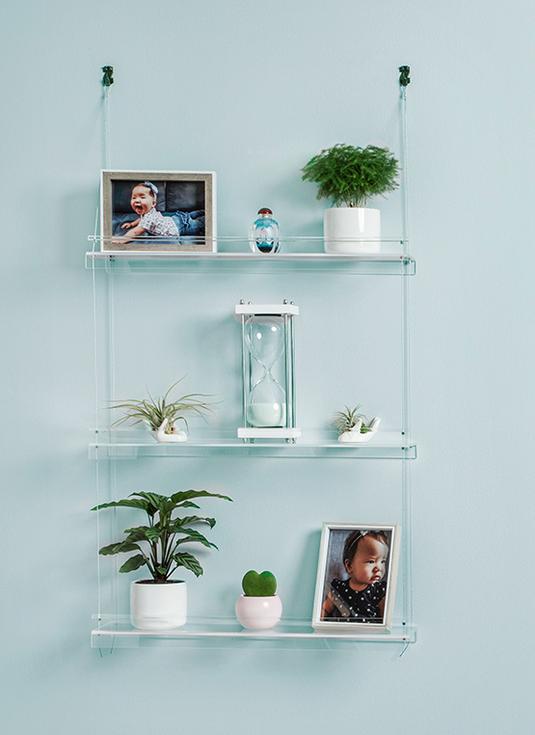 Not Just For Windows!
Our wall shelves work great in your living room, in your bedroom, or even in the bathroom.
Whether displaying small plants or creating a space for your favorite photos, our wall shelf will create an eye-catching focal point in any room.
Shop Wall Shelves